Overview
Once in a long while, a Hawai'i property with thoughtful design to match its exquisite environment comes to market. The contemporary elegance of 380 Lama Place is rivaled only by the home's stunning Lanikai setting, and punctuated by other-worldly ocean and island views.
A private compound of creative, curated design elements and creature comforts on the island of Oahu, featuring a pool with jacuzzi, covered private rooftop bar, BT45 kitchen, climate controlled wine cellar, commercial elevator, Tesla Powerwall with 36 PV panels.
Developer: Crema Builders, Honolulu.
Architect: James Mcpeak, Honolulu.
Interior design: Cesar Giraldo Design, Los Angeles.
...
Estimated completion May 2021. Premium finishes, stunning island views, urban amenities with an international airport only minutes away.
Continue Reading Show Less
Erik Hinshaw

's Listings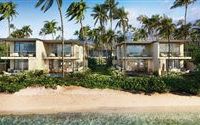 USD|17000000
USD $17,000,000
KAHALA BEACHFRONT DEVELOPMENT OPPORTUNITY
4607 Kahala, Honolulu, HI, 96816, USA