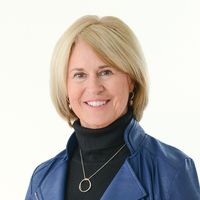 Jan Anderson
Email
Having lived in Colorado, California, Oregon, Kansas, Florida, and now Minnesota since 1988, Jan learned first-hand how to be well versed in residential real estate. She knows how to meet the specific wants and needs of her clients because she's been through it! This knowledge allows her to successfully guide her clients in finding the homes to fit their individual needs and lifestyles. Whether searching for a home for your primary or secondary residence, Jan's unmatched experience in real estate will be a benefit for you as Jan has been involved in real estate transactions all over the world!

Prior to moving to Minnesota, Jan relocated throughout the country while acting as Director of Sales and Marketing for various large corporate employers, so she knows the difficulties of relocation. She also knows the importance of having someone negotiate on your behalf and she thrives on providing excellent customer service and follow-through. Jan is one of only approximately 1% of agents worldwide to earn her Certification as a Negotiation Expert. So, you know she will have your back!

Jan grew up in Brush, Colorado, attended Colorado State University, and earned a B.S. in Business Administration and Marketing. She is an avid skier, loves animals, grew up riding horses on the family farm and ranch, and spends time attending U of M Gopher Baseball games and sporting events. She and her husband John have a daughter who is a graduate of Wayzata High School and the University of Minnesota. Her husband John works in the U of M Athletic Department. Though not a 'native' Gopher, Jan's heart truly lies with the Maroon and Gold.

A licensed Realtor since 2005, Jan is fully engaged in the real estate industry every single day. She is a multiple Diamond Award-Winning agent within Fazendin Realtors, awarded the prestigious Ann Brockhouse Award, listed as a SuperAgent by Minnesota Monthly Magazine, and chosen as the Ninja Agent of the Year for superior client relations, and multiple Agent of the Month awards. She has also been elected to the company's Realtor Advisory Committee which focuses on constantly improving the client experience at Fazendin Realtors. Her goal is to think outside of the box to always find creative ways to assist her clients. Whether listing or looking for a home, Jan enjoys helping both buyers and sellers.

Realtor® Jan Anderson… "Bringing You Home!"

Awards Jan Anderson has earned:

Multiple Diamond Award Recipient
Ann Brockhouse Recipient
Fazendin's Ninja Agent of the Year
Agent of the Month
Top Ten Salesperson
Named "Mpls/StPaul Magazine Super Agent" for several consecutive years
__

Jan Anderson is a proud member of the Minneapolis Area Association of Realtors and a member of the National Association of Realtors®. Jan has also gone the extra mile to earn the following industry designations:

Licensed Real Estate Broker Obtaining a real estate broker's license requires more education and experience than it takes to earn a real estate salesperson's license. To receive a real estate broker's license, a salesperson is required to take additional courses on top of the sixty hours of pre-licensing classes and passing the exam by the stat's licensing body.

Real Estate Negotiation Expert® (RENE) Real Estate Negotiation Experts have purposely sought out courses to further hone their negotiating skills. They have learned about how to best deal with behind-the-scenes issues, are prepared to handle a wide range of personalities and situations, and accel at sorting out the competing objectives of the parties involved in a transaction.

Graduate, Realtor® Institute (GRI) The Graduate, REALTOR® Institute symbol is the mark of a real estate professional who has made the commitment to provide a high level of professional services by securing a strong educational foundation. Buying property is a complex and stressful task. In fact, it's often the biggest single investment you will make in your lifetime. At the same time, real estate transactions have become increasingly complicated. New technology, laws, procedures and the increasing sophistication of buyers and sellers require real estate practitioners to perform at an ever-increasing level of professionalism.

GRI designees:

Have pursued a course of study that represents the minimum common body of knowledge for progressive real estate professionals.
Have developed a solid foundation of knowledge and skills to navigate the current real estate climate—no matter what its condition.
Are recognized nationally.
Act with professionalism and are committed to serving their clients and customers with the highest ethical standards.