By LISA KLEIN
Women account for 54 percent of luxury homeowners under 35, indicating a significant female presence in the purchasing of luxury real estate.
Per a new study from Luxury Portfolio International, more women are climbing the corporate ladder and achieving financial success on their own, with an equal percentage of men and women in corporate leadership – 48 percent – reporting that they hold executive leadership positions. This is reflected in the changing demographics of luxury homeowners.
"Affluent young women are on trajectory to level the playing field, wielding purchasing power, wealth accumulation, education and corporate positions to make serious real estate decisions earlier in their life," said Mickey Alam Khan, New York-based president of Luxury Portfolio. "This has major ramifications for brands and retailers targeting homeowners and the luxury property sector."
A family affair
Luxury Portfolio's research has unveiled some interesting changes and value differences amongst Gen Z and younger millennial luxury consumers.
While men continue to dominate luxury homeownership in older age groups (59 percent of those 35-64), women make up 54 percent of luxury property owners under 35. Forty-eight percent of younger women also report holding executive positions at work.
Family dynamics are changing, as well, with more consumers under 35 remaining single (18 percent) and only 77 percent reporting that they are married. Only 6 percent of the older age groups say they are single and 88 percent are married.
Despite this difference, the younger age group seems to hold higher "family values" than their older counterparts.
While 68 percent of both groups want to ensure generational wealth, 92 percent of those under 35 said they prioritized family financial security versus 87 percent of older homeowners, and 65 percent of those under 35 wanted to provide ongoing financial security for their family versus 56 percent of those 35 and up.
The younger age group also owns more extended-family properties – 52 percent of them do, in fact, compared to just 38 percent of older homeowners.
Priority shifts
When it comes to sustainability, all age groups take small steps, such as using reusable bags and water bottles.
But younger generations are more willing to take big leaps at home: 74 percent said sustainability is a major factor in their home search criteria and 52 percent will pay more for sustainability features, compared to 62 and 47 percent, respectively, for the older generations.
Most luxury homeowners surveyed (91 percent) are considering making more real estate investments.
Multi-family apartment buildings are a popular choice with all age groups.
Interestingly, younger buyers also invest more in office properties (45 percent vs. 37 percent) and properties in college towns (22 percent vs. nine percent). Those under 35 are also looking for vacation homes at a much higher rate.
Unsurprisingly, younger consumers are much more interested in owning digital or metaverse property – 25 percent do so, while only 19 percent of older consumers do.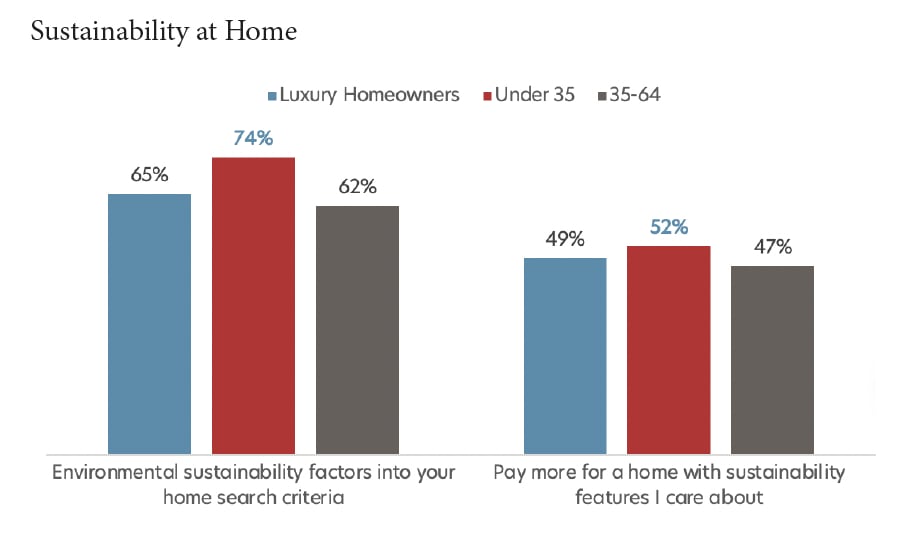 Agent advice
For real estate agents looking to tap into the market of younger homeowners, they should look no further than these consumers' favorite luxury brands for inspiration.
While both age groups expect name recognition from their brands of choice, younger generations put high importance on originality, exclusivity, reputation and social responsibility.
When it comes to the skills their agent possesses, all age groups reported similar interest in a real estate professional who has access to exclusive services, attention to detail, a digital marketing strategy and knowledge of the local market.
However, younger homeowners showed a significant preference for the brokerage's brand affiliation (38 percent vs. 28 percent) and their agent's ability to use high-tech tools (32 percent vs. 19 percent).
Younger consumers also look to social media for property content such as photos and videos of homes and a behind-the-scenes peek into the luxury market.
However, the digital sphere will not replace in-person visits or the importance of agents any time soon. Forty-three percent of those under 35 also said they prefer a real estate professional as a resource.