By LISA KLEIN
The sustainability movement is here to stay, especially with younger buyers in the luxury real estate market.
Green homes are not just the future, but they are becoming a must for those looking to live healthier and more environmentally responsibly.
"Someday soon, what we consider the pinnacle of energy efficient, sustainable, healthy building practices will become the base building codes standards for any new construction," said Andrew Mason, New York area developer for GH Builders USA, a green home builders' partnership.
"As consumer awareness about energy consumption, climate change and healthy living reaches critical mass, it creates a market demand too large for retailers to ignore," he said.
Taking the lead
While energy efficiency and healthy building materials have been a selling point in the past, they are the standard for some luxury homebuyers, especially millennials.
"I think that's very fresh on people's minds, and it's not a fad – it will be the way of life moving forward," said Annalise Stack, a LEED-certified Houlihan Lawrence real estate agent in Westchester County, New York.
While the green trend has been on the uptick for some time, the pandemic shone a light on just how important the home environment really is, something with which Ms. Stack is all-too familiar.
While working on a green project for a hotel chain, she received her LEED certification and an MBA in sustainability, eventually turning to real estate to spend more time with her family.
Ms. Stack's first two children were always "in and out of the emergency room" with severe asthma and "after three years of pumping them with steroids, me and my husband said there's got to be a better way," she said.
After learning about the toxic materials present in most traditional homes – from paint to floor finishes to recycled air – and how they can contribute to health issues, the family tore down their house and built a new, completely green one.
"Once you start exploring it's like going down a rabbit hole," Ms. Stack said. "One thing leads to another and eventually the whole house is coming down."
Now as the only LEED-certified agent in her area, Ms. Stack uses her passion for healthy homes to help buyers in the high-end market navigate retrofitting older homes there with better materials, air and water purification systems, and green energy products such as solar panels.
"We are at the start of the sustainable home movement and of wellness design and it is just going to become bigger and bigger from here," she said. "I don't think there's any going back to a toxic home environment."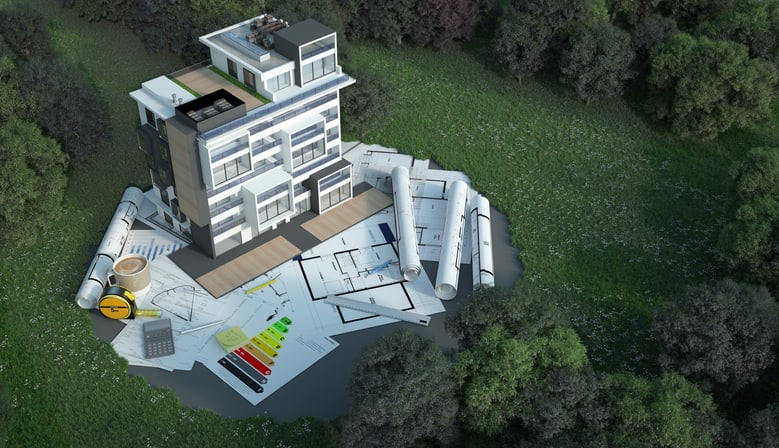 Focusing energy
According to Ms. Stack, most new builds are not very green, although the United States has begun to catch up with other nations in prioritizing sustainability and health, especially in the luxury sector, with green-minded builders taking the lead.
"Building a green home really starts with the design," said Mick Fabar, CEO of the Australia-based Green Homes Group, the parent arm of GH Builders.
The orientation of a home on the property, shading with plants, properly placing windows and the layout of the rooms all contribute to saving energy and upping indoor air quality through natural ventilation.
"It is important to incorporate passive design principles," Mr. Fabar said. "Orientation and design cues appropriate for the location and climate are critical to ensuring the first steps are correct.
"Following the design stage GH Builders focuses our attention onto the key principles of construction that increase a home's efficiency, comfort and health levels, such as leakage minimization, insulation levels and product selection," he said.
Energy efficiency is a major concern for a green home, and GH Builders homes are ISO50001 Energy Management certified.
"We start with a thermal mass energy system and add from there as necessary," GH Builders USA's Mr. Mason said.
The passive energy technique incorporates high-density materials such as brick, tile, concrete and stone into the home. These materials absorb heat and then release that heat slowly into the home, naturally evening out the temperature throughout the day.
"That combined with photovoltaic power generation and the latest battery storage, and you've got yourself one nice set-up," Mr. Mason said.
Green materials go beyond just energy efficiency, with builders and buyers placing importance on a low carbon footprint, recyclability, no or low VOCs in paint, water-based floor finishes to reduce off-gassing and renewable sources.
"Anything that we're putting in our home can be swapped out for a healthier version," Ms. Stack said.
A FOCUS ON the environment, both indoors and out, shows no signs of stopping.
"The more conscious we are of how what we do effects everything around us, the more we know that building green should really be the only way of building," Mr. Mason said.
"Why would we not choose a healthier, more energy efficient, more sustainable, green home over anything else?" he said.