By LISA KLEIN
Wood paneling has a bit of a bad rap in the design world, often a synonym for outdated décor.
But a new version of wood on the wall – sleek slats and their smaller-scale cousin, reeded wood – is everywhere right now and oh-so-modern.
"I think wood slats are trending because they add a contemporary architectural feature that brings a layer of warmth with the natural wood," said Bridget Tiek, principal interior designer of Tiek ByDay in Baton Rouge, Louisiana.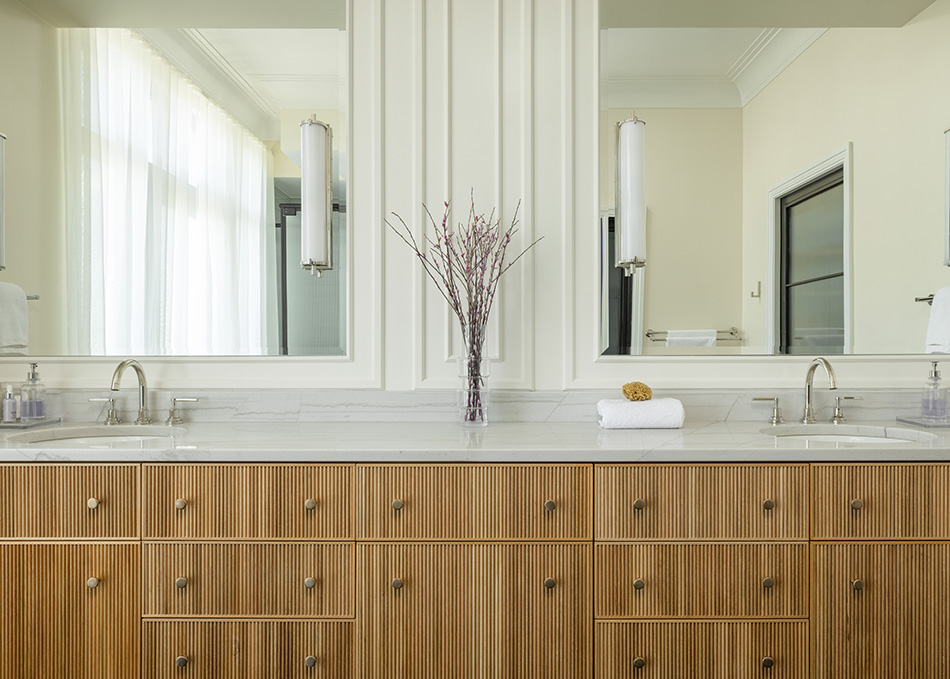 With the grain
Natural finishes such as wood and stone add a much-needed warmth to a space, counteracting cold, flat surfaces and creating depth – an oft-utilized element in design.
"Natural finishes are always in style, but there's something so compelling about the beauty of wood with the texture of a reeded format," said Nicole Bhow Maier, interior designer at Threshold Design in California's Bay Area. "It catches the light beautifully and is so dynamic without being busy."
Slatted wood also taps into the biophilic design movement, incorporating nature into homes in creative, high-end ways – no rustic cabin vibes here.
"Wood slats provide a warm, natural and organic aesthetic to a space," said Bryan Durbin, architect at Oklahoma-based Durbin Design. "This appeals to a growing desire for a connection to nature within interior environments, especially as people seek to bring elements of the outdoors inside."
The visuals of slatted wood keep things fresh – long and linear, made of quality materials and appearing as a feature rather than a full wallcovering.
"As with many returning design trends, the new, revised versions have different elements than the previous ones, like running the panels horizontally, using different-size panels to create patterns, or different wood species and colors to create a unique focal point," said Jessica Dorling, principal designer of Dorling Design Studio in Seattle, Washington.
The look is clean, fitting right in with the simplicity of modern rooms while giving them a boost of character and visual interest.
"Slatted wood is a great way to add texture, dimension and warmth to a space," said Shannon Ponciano, founder and principal designer of Portland, Oregon-based House of Ponce.
It is also an important contrast to smoother surfaces such as painted walls, sleek furniture or shiny tile and metal accents – natural elements such as wood add a soft, cozy touch.
"Wood slats can create intriguing patterns of light and shadow when used strategically, adding dynamism to the space," Mr. Durbin said. "This effect enhances the overall ambiance and can make a room feel more inviting."
Using a wood feature as a focal point can help alter the feel of a space, too. Vertical or horizontal slats can make a room feel taller or wider, while adding them to a vaulted ceiling makes things cozier without sacrificing the openness.
From the dramatic center of attention on an accent wall, ceiling or fireplace to a spa-like bathroom to reeded wood cladding on cabinets, bars and kitchen islands, this feature creates a contemporary pop that can work in nearly any style of home.
"I see this wood finish in traditional spaces, modern spaces and everything in between," Ms. Maier said. "It's so versatile and lends the perfect natural texture."