By LISA KLEIN
With party invites finally flowing in and rescheduled wedding season in full swing, men are once again reaching into their closets for their trusty black or grey suits.
Traditional basics may seem to be the only male options for more formal events, but fresh cuts and colors are taking suits from drab to dapper.
In general, men are gravitating toward tailoring that looks and feels casual and leisurely," said Turner Allen, a men's personal stylist at Style Turner in New York.
"Enter relaxed tailoring. Gone are the days of ultra-formal suiting reminiscent of 80s power dressing," he said.
Get in shape
The last thing anyone wants is to feel stuffy and constricted while trying to have a good time. Some new and modernized vintage suit silhouettes are keeping things comfortable.
"Neapolitan style tailoring has been having a moment over the past few years," Mr. Allen said.
"Neapolitan-style jackets offer immense comfort because they're typically unpadded and only partially lined. The unpadded soft shoulders offer freedom of movement and a more relaxed vibe."
One of my favorite details in Neapolitan jackets is the wide lapels," Mr. Allen said.
"Called risvolto dentellato in Italian, these lapels are typically around 3.5- 4 inches in width, a far cry from the ultra-slim lapels that have dominated menswear over the past 15 years."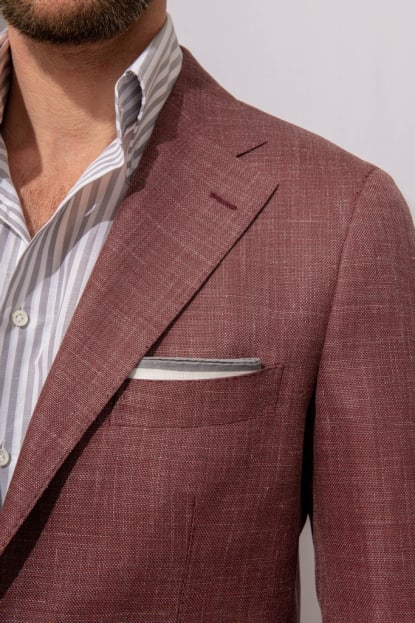 The double-breasted jacket is also poised for a big comeback, adding a little bit of flair with that extra set of buttons and an old-school masculine charm.
Two seemingly opposite cuts for the lower half offer modern options – drawstring pants and high-waisted pants.
The rise in athleisure surely has something to do with the jogger trend, but why not use the silhouette in a suit? In luxe materials, this look is fit for a garden party instead of the gym.
"Another style that's gaining popularity is high-waisted trousers," Mr. Allen said.
"A higher rise paired with a slightly tapered leg will create the illusion of long legs by tricking the eye into thinking your lower half makes up a larger portion of your body."
Class up the color
Playing with color and pattern, without taking it into camp territory, is another great way to punch up a tailored look.
"In terms of color neutrals, and their tonal counterparts, are everywhere," Mr. Allen said. "Rich olive greens, luxe ivory, bright navy, and chestnut browns are everywhere – these colors are versatile and enduring. Perfect for menswear."
Camel, orange and light and bright blues are even bolder options for adding color.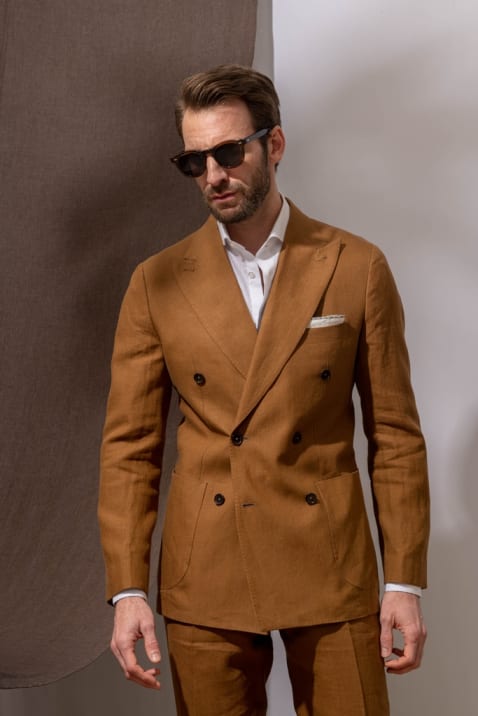 An interesting pattern takes standing out to a whole new level with quieter shades keeping the look stylish rather than garish.
"1970s nostalgia is a trend that has no sign of stopping. This year, it manifested itself in the form of large-scale floral patterns in muted earthy tones," Mr. Allen said.
Stripes, either big and vertical or nautical-inspired, are another dominant trend.
"Both are an elegant way to play with patterns without going overboard," Mr. Allen said.
Wear it well
Pulling off a loud look is easier than it seems by reining in how many of those elements are used.
"When styling a bold suit, try thinking of the outfit as a pie. 50 percent of the pie should consist of neutrals, 40 percent should consist of tonal neutrals and patterns, and the final 10 percent should be bold accent colors," Mr. Allen said.
Laid-back footwear is another way to make that crazy color work.
"More and more men are ditching their stiff and formal oxfords for loafers. Rich materials like pebbled leather and suede are hugely popular thanks to their ability to add texture and warmth to any look and imbue a sense of casualness," Mr. Allen said.
This shoe philosophy can translate all the way to the suit itself. Choosing one made with an unexpected material is a great way to tone it down a little.
"Materials like corduroy, seersucker, and linen are all great ways to experiment with texture and take your sartorial chops to the next level," Mr. Allen said.
Whatever bold choices are made, to stay sophisticated the suit should not be too ostentatious.
"Many guys think wearing bright colors and crazy patterns is the answer to appearing stylish," Mr. Allen said. "This couldn't be farther from the truth. Instead, play with texture and create a look that's compelling and elegant."