By Lisa KLEIN
After over a year of donning sweatshirts and yoga pants almost exclusively, consumers are finally stepping out into the public eye again.
Fashion designers seemed to know everyone would be ready to inject some fun into their wardrobes for spring and summer, showing looks on the runway that pack a punch.
"Looking forward, this is a celebratory time for fashion as we turn a corner on the pandemic and can safely gather again," said Samantha Brown, a New York-based celebrity stylist at Samantha Brown Style.
Women are ready to get dressed, and there are plenty of ways to do it in style this season, whether they want to continue on the casual side or take it up a notch.
"We're seeing a shift from luxe casualwear to optimistic and joyful dressing for summer," said Roopal Patel, senior vice president and fashion director at Saks Fifth Avenue.
Keep it comfortable
It may be time to put real pants on again, but women do not have to squeeze into skinny jeans just yet.
"Oversized clothing is still dominant, since we got used to prioritizing athleisure while working from home. Kitten heels, knits and slouchy slacks help make the move into real clothing less daunting," Ms. Brown said.
Baggy trousers are truly big this season. Designers such as Balenciaga, Fendi, Chanel and Louis Vuitton kept comfort in mind with high-waisted and wide-legged pants and jeans cinched with pleats, paper bag waists and shoestring ties.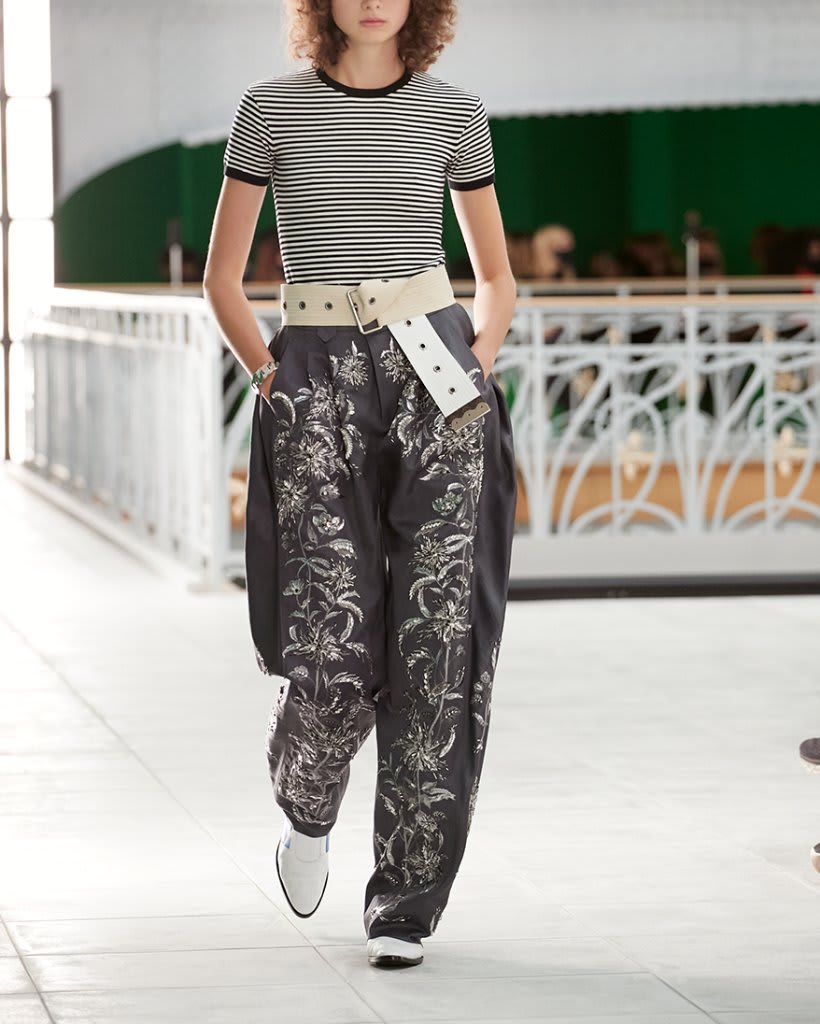 Chloé, The Row and Alberta Ferretti doubled down on the oversized silhouette, topping their versions with blazers just as big.
Head-to-toe knits are another way to stay cozy yet stylish – matching sets are a top trend, according to Ms. Patel. On the runways designers paired sweater-knit shorts, flared pants and long skirts with tees and cardigans.
Fendi and Proenza Schouler used monochrome colors to keep their comfy ensembles looking pulled together. Up the ante a little by choosing cropped tops, cutout details and mini dresses as shown by Altuzarra, Salvatore Ferragamo and Self Portrait.
Add a dash of daring
"For those who are feeling more adventurous, skin baring 'floss' tops, cutouts, folk/quilted jackets and sorbet pastels are all on trend this season," Ms. Brown said.
Designers gave plenty of options when it comes to showing off the results of at-home workouts.
Cropped and bra tops with straps wrapping around the torso popped up at Jacquemus, Christopher Esber and more. Salvatore Ferragamo took it even further with a shredded midi skirt.
Top and side cutouts also reigned on the summer runways, designers such as Balmain highlighting shoulders and abs.
Consumers do not have to bare it all to get loud though – prints, bright colors and other flashy details can be just as effective.
"Between the weather changing and the return of in-person celebrations, Saks customers are embracing getting dressed again in bold hues, vibrant prints, easy breezy silhouettes, and sequins," Ms. Patel said.
Big prints showed up in full force for the season. Versace resurrected the brand's iconic Trésor de lar Mer print for Spring 2021, featuring seashells and ocean creatures atop bright yellows, greens and blues, sure to make a splash in your closet.
Dolce & Gabbana took it a step further and used patchwork for every item of clothing imaginable for their Spring 2021 collection – jackets, blazers, pants, shorts, flowy skirts, mini skirts, shirts, dresses – you name it, it was a potpourri of prints and color.
To tone it down a bit, Ms. Brown suggests pairing wild prints with neutral staples.
Bright yet pastel colors were a softer side of many collections. Designers such as Chanel, Acne, Salvatore Ferragamo and Cinque a Sept used candy-hued bubblegum pink, creamsicle orange, limeade green and mellow yellow on looks of all shapes.
If it all seems a bit too much for consumers just yet, they should come out of hibernation-mode slowly by throwing some small-but-mighty details into your wardrobe.
"I always advise my clients to dip their toe in trends they want to experiment with, sometimes literally by adding a bright shoe versus a bright piece of clothing," Samantha Brown Style's Ms. Brown said.
According to Ms. Patel, customers at Saks are looking to add raffia accessories, small shoulder and hobo bags, and colorful or novelty heels, slides and flats to their looks this summer.
Above all, consumers should be themselves.
"Look for clothing that is reflective of your personality, signature style, and allows you to feel put together, while having some fun," Ms. Patel said.
Lead image credit: Versace