By AMIRAH KEATON
British wall coverings maker Farrow & Ball is enlisting the help of a first-time collaborator known for his contemporary uses of color.
Linking with American fashion designer Christopher John Rogers, the company is framing decades of domestic know-how in modernity for "Carte Blanche," an aptly-titled capsule collection of paints and wallpaper prints. Expertly engaging a diverse group of digital influencers for the effort, a corresponding launch campaign sees a range of content creators bring playful shades and swatches to life before the eyes of an expectant global audience.
"By harnessing the power of authenticity and creative content, collaborations between influential tastemakers and homeware brands can be a highly successful opportunity," said Alison Bringé, chief marketing officer at Launchmetrics, London.
"What defines success for such strategies is selecting the right person who would truly align with your brand's marketing efforts and maximize the impact of these collaborations."
Ms. Bringé is not affiliated with Farrow & Ball, but agreed to comment as an industry expert.
F&B x CJR
Live as of Sept. 7, the pair's paint collection is comprised of four neutral tones, eight statement colors and three wallpaper options, each featuring the former CFDA/Vogue Fashion Fund winner's signature touches.
"It's been incredible to work with Christopher because craft and attention to detail are intrinsic to both of our processes, so I always knew this collaboration was going to be something special," said Charlotte Cosby, creative director at Farrow & Ball, in a statement.
"Carte Blanche is all about finding freedom to create a personal look and enjoying the process," Ms. Cosby said. "The palette has 12 colors and for the first time, we've included our wallpapers in the collaboration too, which are printed with our own paint as always, but this time exclusively using the Carte Blanche colors.
"Whether your scheme leads with color, neutrals or pattern, there are so many possibilities and I'm excited to see how people bring it to life in their homes."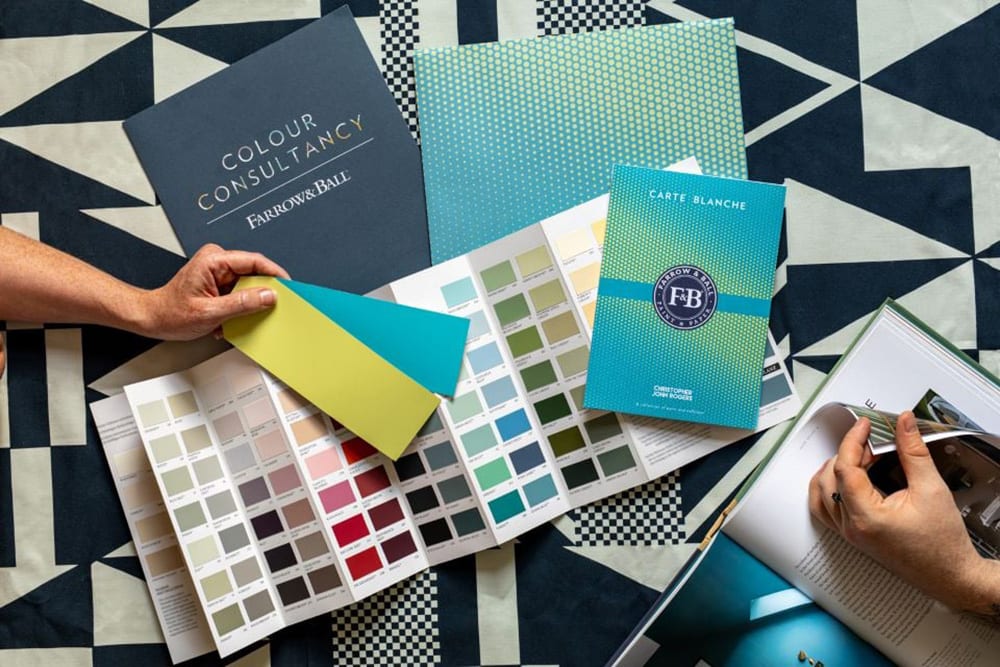 Born in the American South, Mr. Rogers' experiences with food and family informed the name of each product, from "Roasted Macadamia," a soft tan, to a cheerful pink "Shallot" and "Tomatillo," a vibrant green.
Wallpapers displaying dotted gradients employ one of Mr. Rogers' graphic signatures, while two additional striped and checked options respectively remix age-old design codes.
"Colors, and the feelings that I get from them, are always my starting point when working, so when Farrow & Ball reached out regarding the collaboration, it seemed like the most natural fit," said Mr. Rogers, in a statement.
"With their emphasis on quality and longevity, and my emphasis on artful, declarative design, I think this partnership has created something incredibly exciting by mining the space between both feelings," he said. "I'm so excited for people to be able to access these paints and papers!"
To initiate the home improvement journey, those eager to explore the Farrow & Ball x Christopher John Rogers release can head in-store. The collection also touts online availability.
Through the order of a complimentary color card, or the purchase of individual paint swatches, the Carte Blanche collection offers buyers two ways to test colors out before committing. Tools like this grant remote customers a more precise look at the paints' properties upon arrival as, even in the case of the most detailed digital descriptions, shades are inevitably subject to slight deviations.
Factors impacting the appearance of an e-commerce listing on a consumer's end can vary from person to person. Settings as innocuous as a smartphone dimness can account for disparities between initial perception, and a product's true appearance offline, thus while virtual points-of-sale work to expand accessibility, they also hold potential for a fair amount of uncertainty.
Working to reduce this dissonance — luxury labels selling via the World Wide Web face the challenge almost unilaterally — is no small task.
Paint projects of this nature demand a level of exactitude on behalf of elements such as shade, finish and saturation, while environmentally dependent circumstances can also alter how the item shows up offline.
Consequently, online shoppers often turn to reviews, recommendations and the like for adequate illustrations of real-life performance, the reality rendering representations of a product in action that much more crucial in this case.
All conditions considered, who better to embody a home launch than those carrying influence on the internet?
Content creators carry Carte Blance
Mailers aside, Farrow & Ball has opted for one other tactic to help shoppers imagine implementing its colorful Carte Blanche accents across their homes, amplifying real-world applications by commissioning social media content.
Spearheaded by a set of digital influencers decorating their own abodes in off-white "Au Lait" or teal-adjacent "Lobster" tones, the strategy has resulted in a series of intimate interior exhibitions.
According to Launchmetrics, the global homeware market is projected to grow 40 percent to reach $602 billion in sales by 2027.
The firm recently explored ways in which the space's brands can tap content creators effectively, hosting a digital event entitled "Influencers & Interiors: A New Voice for Homeware Brands" last month (see story).
As homeowners increase the number of hours spent behind closed doors (see story), customization and curation are arguably of the utmost importance, and the activity of outfitting one's home has proven to be an intensely personal affair for many.
In this case, Farrow & Ball meets the moment using virtual voices, contracting talent to produce eye-popping original content intended to spark trial, raising the aspirational appeal of Carte Blanche in the process.
"This type of collaboration provides an authentic and organic platform for home brands to showcase their product integration into real-life settings, allowing the influential figure to contribute to the narrative by sharing personal tips or inspiring product lines altogether," Launchmetrics' Ms. Bringé said.
"Thanks to their ability to visually showcase products and inspire their followers, tastemakers serve as compelling storytellers who hold the power of unlocking new audiences and increased brand recognition."
This article originally appeared on LuxuryDaily.com. Luxury Portfolio is pleased to bring you the latest trends and insider takes through our exclusive partnership with the go-to destination for luxury news. Subscribe today.