By LISA KLEIN
Dwelling on gourmet food, nothing comes to mind quite as quickly as the truffle: the fungi that grows underground and can fetch quite a price.
Foodie travelers can dig up their own on a truffle-hunting tour in one of the few regions where these prized ingredients grow throughout the winter and spring.
"Experiencing the truffle hunt gives visitors the opportunity to go behind the scenes of one of the world's most secretive businesses, in a place that is still undiscovered, like its truffles," said Marino Cardelli, director of Experience BellaVita, a tour specialist in the Abruzzo region of central Italy.
Selective fungus
Mr. Cardelli, who leads cheesemaking, wine tasting, pasta making and, of course, truffle hunting experiences, has been searching out the culinary treats since age four in the Teramo province of Abruzzo, where nearly everyone is a truffle hunter by hobby or profession.
Truffles, a hypogeum fungi and technically both a mushroom and a tuber, are found in only select regions of the globe – the Pacific Northwest in the United States and Canada, southern France and northern and central Italy – and need perfect conditions to grow.
"Truffles grow next to the certain trees," Mr. Cardelli said. "Actually, to feed themselves, they need to attach to roots of certain species of trees and bushes, like oaks, holm oaks, hazelnuts and durmasts, where they engage in a biologic relationship called symbiosis, where they both benefit via an exchange of nutrients.
"Once the symbiosis is established, the truffles need distinct conditions in order to grow and thrive," he said. "This includes the age of the infected plant, soil pH, humidity levels, temperature and other climatic conditions.
"Before the plant will begin, if at all, producing truffles, there is a waiting period from four to 10 years."
Steep 'shrooms
The unique requirements for truffles to grow contribute to their rarity and expense. They are also resistant to cultivation, and although certain black truffles can be somewhat successfully "farmed," the elusive white truffle cannot.
"Truffles are very sensitive to climate conditions compared to fruit and vegetables, hence their prices depend on how good or bad a season is," Mr. Cardelli said.
"As they are a product of nature, their production is in the hands of Mother Nature," he said.
This summer a drought and high temperatures hit the Piedmont region in northern Italy where the priciest white truffles grow, causing a shortage in the October through December harvest season.
The cost reached about $4,000-$5,000 per pound and is now hovering around $3,000 compared to an average of just $1,200 in 2019.
"In addition, very big white truffles above 200 grams [about 7 ounces] are usually sold at auction," Mr. Cardelli said. "This year a truffle of 830 grams [8.2 pounds] was sold at 103,000€ [$155,776].
Black winter truffles, which are harvested in Italy from November to March, are going for about $390 per pound.
Sensational aromas
These fungi would not fetch such an enormous price if they did not have the taste to match, and their rich, umami flavor is unlike any other in the culinary world. Not quite mushroomy, earthy, nutty and maybe a bit garlicky, the truffles musky and pungent aroma is what really gives it away.
"Due to the fact that their underground home prohibits them from distributing spores through the air and wind, truffles have developed, or nature has given truffles, strong scents to attract rodents, snails and other animals," Mr. Cardelli said. "These animals, through their digestion, propagate the truffle spores in the forest."
That smell is what tips off truffle hunters to their prize, but they need a better-than-human nose to lead the way.
"The best way to find truffles is by using trained dogs," Mr. Cardelli said. "It Is the most important asset for a truffle hunter. Without a good trained and talented dog, you will simply miss truffles or not find them at all. A dog is gold.
"The dogs mostly smell only ripe truffles, and when you find one you can almost be sure that the truffle has matured perfectly."
Truffle-smelling dogs, of which every hunter has their own strong opinions on as to breed and lineage, are trained as puppies to find the fungi in exchange for their own treats.
Truffles tend to always grow in the same ideal locations, and every hunter has his or her own favorite places to search with their dog, using roundabout routes and hand signals with their dog to keep them hidden from competitors.
"Hence, these locations are very secretive and the best spots are only handled down generation after generation," Mr. Cardelli said.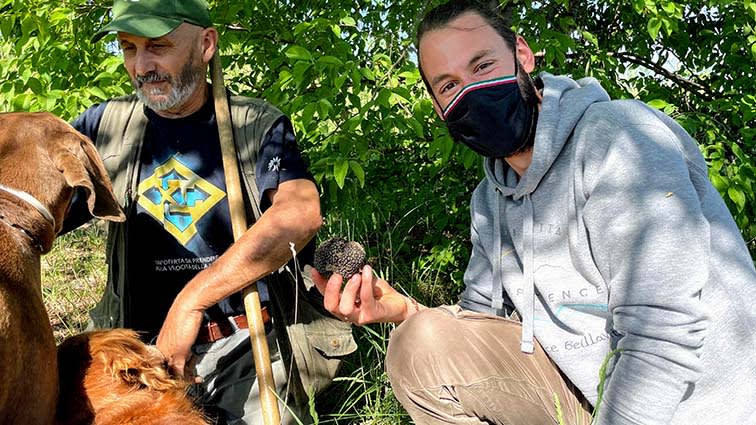 In on the secret
In Abruzzo, where 40 percent of Itay's black truffles grow, Mr. Cardelli is bringing visitors to his own family's favorite truffle hiding places to experience the thrill of the hunt for themselves.
Travelers learn about the region and why the conditions there are prime for truffle production.
"We start with the walk in the woods and people have the opportunity to get into the boots of a pro truffle hunter, see how the specially trained dogs search for the precious fungi and get to pick them from the ground or the dog's mouth, in exchange for a treat," Mr. Cardelli, who often enlists the help of his uncle, said.
"We show how to recognize and distinguish a good truffle from others of inferior quality and teach some pro tips on how to spot a truffle area," he said. "We also uncover the dark sides of truffles that you wouldn't normally hear."
And, of course, truffle-hunting guests will get to taste the underground gems they have found.
"The hunting ends with a surprise in the woods before sitting at our friend's restaurant, who prepares a truffle-based meal of more than five courses using only seasonal ingredients, the fresh truffles we source, paired with a selection of 'Cerasuolo d'Abruzzo', our rosé wine," Mr. Cardelli said.
"What better way than to end the meal and the experience than with a surprising dessert with fresh truffle," he said.