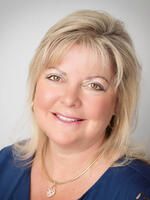 Nancy McLoughlin
Nancy McLoughlin is a lifelong resident of Long Island's North Shore. Nancy's large and powerful sphere of influence, consisting of satisfied customers and referrals, is the key to her great success. Intently listening to her clients' needs creates a positive working relationship, whether they're a first-time buyer or purchasing a second home for vacation or income property, and any type of property from rehabs to exclusive waterfront estates. She takes the time to help clients make informed decisions combining personal attention and professional skills to achieve results for her clients. 
Howard Hanna-Coach Realtors provides Nancy and her clients with stellar in-house services for a smooth seamless transaction with less stress. Our state-of-the-art marketing technology sets the standards in our industry. You can enter into any real estate transaction with confidence, with our dedicated relocation department helping with an out-of-state move or our exclusive affiliations with the finest real estate networks for a move out of the country. Nancy also has access to our mortgage and title teams to help cover all your needs. 
Nancy is a member of The Institute for Luxury Home Marketing, an Associate Broker, Certified Short Sale Representative, and a Certified Buyers Broker, and  Foreclosure Specialist. She is a highly motivated professional and believes that being well informed and educated is crucial to being a successful real estate professional. Don't wait to contact Nancy! Call today to find out how she can help you purchase or sell a property! We know you'll be glad you did.
Recognition:

 Listing Agent Of The Year
2018 Office Elite
Branch Office Top Producer
Gold Level Achievement
 Silver Level Achievement
Outstanding Client Service A...