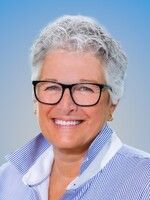 Donna Ferro
Donna Ferro is a seasoned licensed associate broker with Coach Realtors for the past 25 years. Donna grew up on the South Shore of Long Island and went to West Babylon High School. From there, she attended the University of Dayton and went on to join, then partner and ultimately become the sole owner of the family catering business. Donna notes, "There is a strong similarity between both businesses with client service being at the top.  I do believe the values I learned from the catering business helped me to achieve success in real estate." And she's right! Service is everything, no matter the field. Donna is willing to do the legwork and heavy lifting needed to help you accomplish your goal.
Donna approaches her real estate business with professionalism, perseverance, and pride in her work. This is evident by the many awards Donna has received. She cites the companywide Client Service Award as being the one she's most proud of. It was awarded to Donna twice for feedback from clients, recognized by the leadership team. A highly accessible, responsive agent, Donna loves interacting with her clients, learning about them, and finding out what their needs are. Matching people up with homes is her favorite part of the job!
Donna has been an agent with Coach Realtors for the entire time she's held her license. Committed and loyal, she pairs her firsthand area knowledge, cultivated business acumen, and outstanding client services with the incomparable in-house services offered by family-owned Howard Hanna-Coach Realtors. With stellar marketing and relocation departments as well as the exclusive affiliation Coach Realtors enjoys with the world's finest real estate networks, you can enter into a real estate transaction down the street, in another town or another country will less stress.
Contact Donna today to f...