Key Details
Lot Size (Acres / ft2)
25.75
Overview
Unmatched environment with awe-inspiring panoramic views in 20-plus-acre private lake! Capturing the magic of Colorado nature, and blending the best of both lake and mountain, you cannot find a more spectacular location than this sanctuary of water and earth!
Enjoy rarely seen incredible outdoor spaces featuring three islands, handcrafted gazebo, fireplace with grill, swing, boardwalks, hammock retreats, tree houses, orchards, trees, raised beds, and multiple panoramic resting areas. From the privacy of your own docks, launch a boat and catch your meal of fresh fish. Or harvest fresh vegetables, herbs and fruits for your own farm-to-table experience. You can immerse...
yourself in nature while only a few minutes away from the city's best offerings. No horses. Minimal wake lake. Property is on a conservation easement.
Private lake with 0.6 units of 1 water share of Louden Ditch. Half ownership of this private lake is sold exclusively and jointly w/ the additional purchase of 6755 N. CR 13, Loveland (MLS #951960).
Continue Reading Show Less
Property Features
Lot
Corner Lot, Wooded Lot, Evergreen Trees, Deciduous Trees, Native Grass, Level Lot, Rock Out-Croppings, Abuts Ditch, Abuts Pond/Lake, Abuts Farm Land, Abuts Private Open Space, Meadow, Orchard, Outbuildings, Rural, Plains, Unincorporated
Other Amenities
Play Area, Hiking/Biking Trails
Location
Schools near N County Road 13, Loveland, CO, 80538, USA
Jaio Osborne's Listings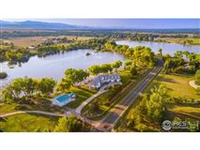 USD|2100000
USD $2,100,000
MAJESTIC LAKEFRONT ESTATE
6755 N County Road 13, Loveland, CO, 80538, USA