By LISA KLEIN
From daquiris, mojitos and margaritas to the classic paloma, Aperol spritz and French 75 to anything that includes lemonade or ends in "fizz," sunny day drinks are easy to make but require ingredients and supplies that may not always be on hand.
Having a thoughtfully stocked and ready-to-serve bar, or bar cart if short on space, is a great way to be prepared for impromptu garden parties to toast the summer with friends and family.
"As a great host, you want your bar to look great and functional – a good and inviting bar cart always starts with the essentials," said Miranda Hodge, digital content producer for ReserveBar, a one-stop online shop for premium spirits and bar accessories.
"We recommend curating a selection of bottles, spirits, mixers and bitters that will inspire you to shake and serve like a true adult and make all of your guests celebrate summer in style," she said.
Mix it up
First things first, investing in the right barware is a necessity when it comes to crafting the perfect cocktails.
"You must have a bottle opener, a jigger and a shaker," Ms. Hodge said. "One item to help beat the heat is the ReserveBar Ice Ball Press. Not only does it add pizzazz to your bar cart, but this makes it easy to create a perfect ice sphere in under one minute."
Another way to add a touch of glam is to start a collection of glasses in all shapes and sizes – mixing and matching is fine and necessary for different types of drinks. Highball, coupe, martini, flutes, snifters and rocks – each glass adds "visual intrigue" and a fun way to serve.
If that is not enough for the aspiring mixologist, "choose a statement piece of flair," Ms. Hodge said. "Try an elevated ice bucket for those warm summer nights. Hosting for a special occasion? For that extra touch, add an engraved bar message on your favorite bottle, thanks to our engraving service."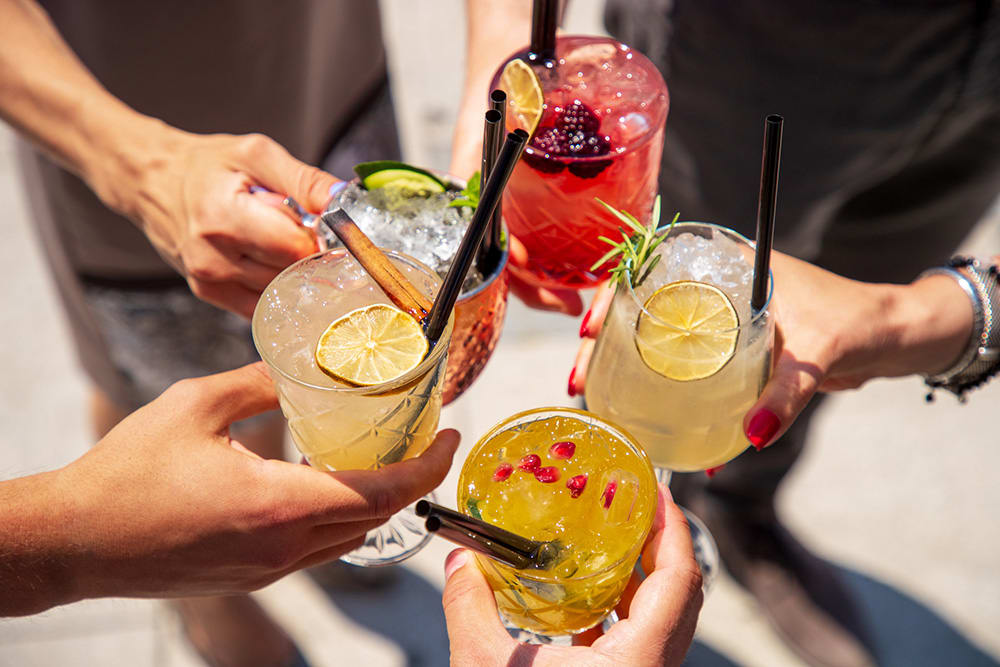 Next, having at least one bottle of each basic liquor is essential to making most requested beverages.
"Make sure to have to have one of each key spirit on your cart: vodka, scotch, bourbon, tequila, gin and rum," Ms. Hodge said.
Tried and true recommendations from ReserveBar include Belvedre Vodka, Bombay Sapphire Gin and Don Julio Silver tequila. To take it up a notch, the company's "beyond luxe" picks include Louis XIII cognac and Beluga Epicure vodka.
ReserveBar's whiskey choices for the cocktail enthusiast are Basil Hayden's Rye, Nikka Coffee Grain Whisky or Four Roses Single Barrel bourbon. And for something a bit different, Junipero Gin, Diplomatico Rum or OAX Mezcal are great picks.
Bitter taste
No bar is complete without bitters. Ms. Hodge recommends Hella Bitters, good tonic water, ginger beer and vermouth.
"Summer staples: Aperol for your spritzes and rosé – name a better duo," she said. "Cointreau is a must for the perennial cocktail of the pool season – the frozen margarita. [And] Grand Marnier to make a summer-ready Mai Tai."
Finally, for the perfect finishing touch, summer-party hosts will need seasonal fruits.
"Fresh is better," Ms. Hodge said. "Lemons and limes look nice and the fresh fruit juice tastes better than store-bought options.
"The best garnishes are also the ones that are currently in season – think summertime favorites like peaches and watermelon," she said.