By LISA KLEIN
Last year was filled with consumers scrambling to create their own at-home fitness routines thanks to mandatory gym closures and COVID-19 precautions.
Out of necessity, virtual workouts exploded in 2020. According to fitness studio subscription site ClassPass, 81 percent of its members have been using the digital options studios began offering last year.
"Since the pandemic we have noticed a huge uptick in the number of people seeking out at-home personal training," said Noelle McKenzie, co-founder of Leading Edge Personal Trainers in New York.
Peloton, a maker of indoor cycles and the fitness subscriptions to go along with them, cracked $1 billion in revenue for its fiscal second quarter of 2021 with a 128 percent increase.
At-home personal training also filled the gym void by meeting fitness seekers anywhere, whether in their basements, outdoors at a park or virtually for extra safety.
Jesse Muniz, president of Prestige Personal Fitness in Chicago, has also seen business increase.
"We have seen quit a few parents inquiring about training for their children as well as children inquiring about training for their parents," Mr. Muniz said. "The pandemic has made it difficult for both the older and younger population to stay active."
Bringing the gym home
There is no need to head back to the gym to get a hands-on approach to fitness: in-home training makes for a more readily-available and tailored workout.
"Training from home means you no longer need to travel to the gym or pay for a gym membership," Ms. McKenzie said. "This makes it convenient and more cost effective so people are more likely to stay consistent with their workouts."
That convenience factor cannot be ignored. Only 29 percent of Americans told a Freeletics fitness app poll in 2019 that they believed exercising to be convenient.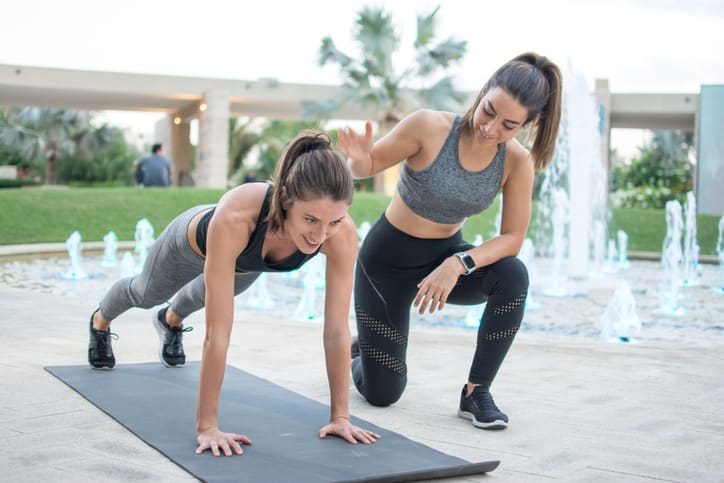 There certainly is something to be said for being able to fit in a workout during a lunchbreak, between engagements or right after rolling out of bed.
A Beachbody poll conducted last year found that nine out of 10 regular exercisers planned to continue working out from home even after the pandemic subsided.
"The great thing about health and wellness that comes to you is that it can be done pretty much anywhere," Mr. Muniz said. "Our instructors meet their clients in parks, offices and even at the pool."
Not only is it more accessible than going to a gym, in-home training can make for a better workout.
"This typically allows for the individual to be more relaxed and rid themselves of the distractions a gym or studio may present," Mr. Muniz said.
"What we have found is that once these distractions are eliminated, the client not only gets a better workout, but the trainer is also more focused on the client," he said.
Working out many ways
There is also no need to worry about ways to work up a sweat: consumers can do more than they think at their own houses.
"We may not have the machines or cables a gym has, but we have a wide variety of equipment we can bring with us – bands, dumbbells, suspension trainers, medicine balls, balance equipment, kettlebells and much more," Mr. Muniz said.
Using simple or no equipment can even benefit your workout.
"Training at home puts more focus on moving your body as opposed to using machines at the gym," Ms. McKenzie said. "This allows you to target more muscles at once and improve how you move. Functional training is most applicable to improving how you move in everyday life."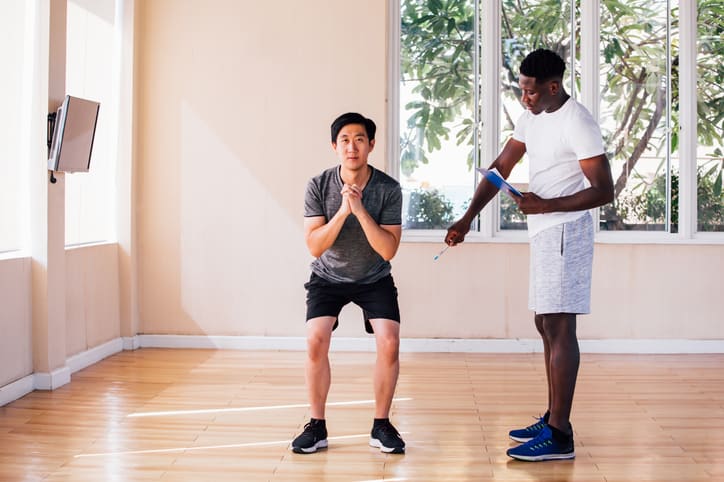 Leading Edge Personal Trainers and Prestige Personal Fitness offer programs ranging from weight loss, strength and mobility training, pre-natal and post-natal exercise, yoga, Pilates, stretching, meditation and massage.
Each individual's lifestyle is taken into account when creating a fitness plan, including finding ways to battle another product of the pandemic, work-from-home pains.
"We find that mobility training has become more important and useful this year than ever before because most people are still working from home for long hours in less-than-ideal sitting positions," Ms. McKenzie said.
And unlike a group class at a gym, an in-house fitness guru can change up workouts at a moment's notice to suit a client's new goal or to fit their mood that day.
"Clients can get bored very easily, so we constantly mix things up," Mr. Muniz said. "We always like to say no two workouts are ever the same."
Having a trainer or team on hand and in the home makes it easier to not only get that workout in but to set and meet personal fitness goals.
"The workouts that we do with our clients are designed specifically for them," Mr. Muniz said. "Every individual is different."