By LISA KLEIN
Renowned glass artist Dale Chihuly last week unveiled a new film showcasing his groundbreaking work, serving as a fitting addition to the United Nations' "International Year of Glass" in 2022.
The documentary short, Chihuly: Roll the Dice, debuted at the Santa Barbara Film Festival and follows the artist and his team as they realize a new vision in glass during the making of his Rotolo series of sculptures.
"I started it, I think, just to see how big we could go," Mr. Chihuly said of the project in the film. "How much glass could we handle?"
Clear creativity
Known for his colorful, often large-scale, glass sculptures, Mr. Chihuly's careers spans over five decades, beginning with his first bubble blown from a metal tube into glass he melted in the oven in the 1960s.
Mr. Chihuly's work has been exhibited at museums across the world, housed in numerous permanent collections and been seen in public spaces and parks integrated into, yet standing miles apart from, the surroundings.
The Pilchuck Glass School that Mr. Chihuly founded is also celebrating its 50th anniversary this year, and he continues to work out of three studios in Seattle and Tacoma, Washington, where he was born.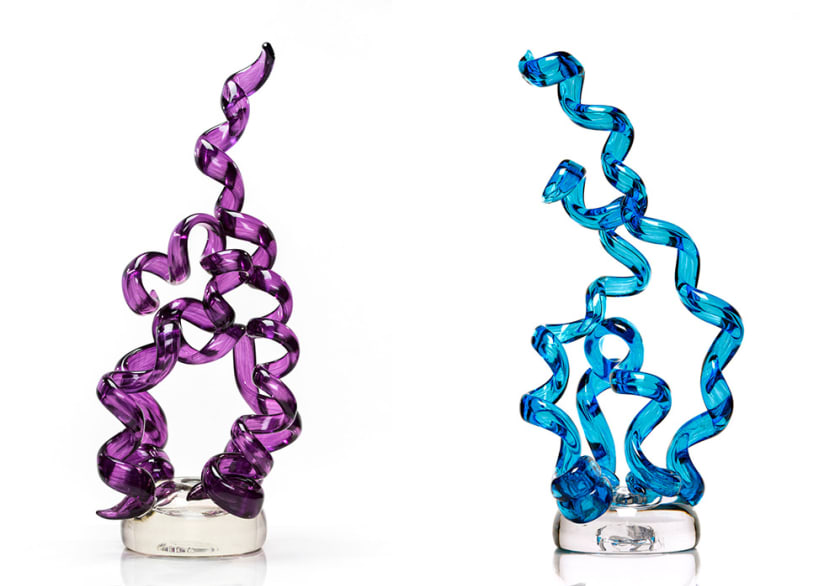 The artist has worn his signature eye patch since 1976, when a car accident in London took the sight in his left eye. Undeterred, Mr. Chihuly began working with a team to create his glass works, which had the serendipitous side effect of expanding where he could push the medium.
Chihuly: Roll the Dice, directed by the award-winning Peter West, showcases the collaboration between the artist and his large team in doing things never done before – a process that took five years to realize.
"He knows that's my personality – that I'll try anything even if I think it's impossible to do," said James Mongrain, Mr. Chihuly's long-time gaffer, in the film.
The resulting Rotolo, Italian for coil, consists of large pedestal sculptures of twisted glass, each one containing up to 140 pounds of the stuff and many stretched to over three feet tall.
Both the film and sculptures highlight the teamwork and innovative thinking that have allowed Mr. Chihuly to experiment with what glass can do throughout his extensive career using a combination of manpower, centrifugal force and good old-fashioned gravity.
"You gotta go with the flow," Mr. Chihuly said in the film.