By LISA KLEIN
Professionally designed spaces have depth and layers to them, each element adding its own touch while perfectly playing off of the others.
One of the tricks for putting together such a complex yet cohesive space is all about the mix of materials.
"Matte and shiny, textured and flat, patterned and plain: These contrasts make a space feel more dynamic," said Colleen Simonds, a Pittsburgh, Pennsylvania-based interior designer.
"You need those elements in order to feel something when you walk into a room," she said. "This is what makes a room feel alive and evoke emotion."
Spice of life
Forgetting to consider the range of materials throughout a room can have unintended, but décor-devastating, consequences.
"When you have a space that doesn't have the mix it can feel one-dimensional, flat and overall uninspired," Ms. Simonds said. "You just feel bored."
Using too much of the same good thing can also make a room appear a bit fake, like a carbon copy of page in a one-note design catalog: Think stark industrial, blindingly shiny contemporary, cabin in the woods, midcentury modern overload.
"Mixing things like industrial elements with clean, feminine lines helps a space feel balanced, not themed," said Sarah Storms, founder of Styled by Storms in New Jersey. "When you mix elements, it makes a space feel considered and curated."
Texture is key when it comes to adding to the material mix – a wood floor, wool rug, lacquered furniture, gleaming brass light fixture, soft linens and matte wallpaper all bring a different feel to the same space.
"Every interesting room is going to have some stone, wood, glass, metal, leather and fabric," said Caroline Kopp, founder and principal of the Connecticut-based Caroline Kopp Interior Design.
"That can apply to pretty much any style or color palette, but this mix of elements is what brings interest to a room," she said. "The more objects and surfaces in a space, the more you can mix different kinds of stones or metals or textiles."
Textiles are important in not only adding a wide variety of textures all on their own, but in sewing all of the materials and layers of a room together.
"I love imagining an invisible thread that runs through the space," Ms. Storms said. "For example, reupholstered antique dining chairs in a contemporary, textured jacquard in a mix of blues is a bit of a juxtaposition to the antique dining set, but it is also the element that makes it work within the space."
To really kick it up a notch, a few unexpected or uncommon materials will do the trick.
"Unique materials create extra intrigue and individuality in your space," Ms. Kopp said. "A super-unusual slab of marble on a wall, a glass-mosaic mural installation, a patterned wallpaper on the ceiling – things like this function as art in your space and give it that oomph and sense of daring you are not going to get from run-of-the-mill 'safety' materials."
Stir it up
There are plenty of ways to be safe about mixing a variety of materials in a space, however.
First, think about how all of the interior ingredients interact with each other, and then make sure to add some of each flavor.
"A shiny, hard surface can feel colder versus a cozy surface that will feel warm," Ms. Kopp said.
"The shiny surfaces will reflect light, as opposed to velvets or other textiles that will absorb it," she said. "Mixing in the warm and the cold makes for a multi-dimensional feel."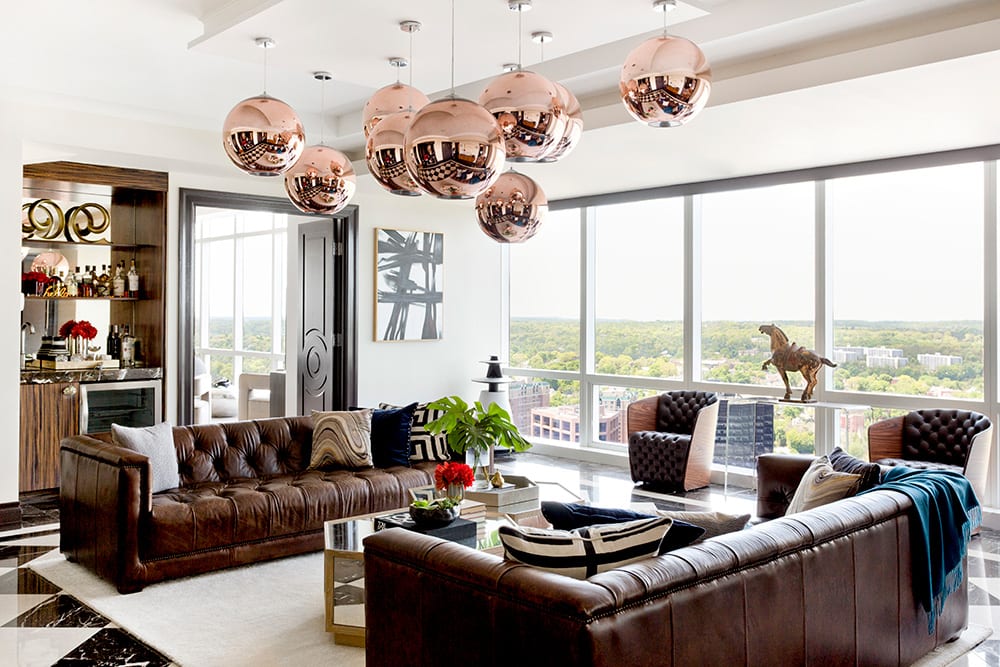 Also make sure that each finish, warm or cold, is repeated more than once so that the room feels cohesive rather than a single piece sticking out – Ms. Storms recommends using everything at least three times.
"This can be a mix of one statement piece, such as a hammered-copper sink, that you support with small, even tiny, other elements of copper," Ms. Storms said. "This makes the mix feel intentional, not accidental."
Another way to ensure a unified look is to choose items in the same color family for each element.
"This tonal look is found in fashion, yet translates to the home perfectly: Think leathers, specifically luggage-colored or saddle tones, mixed with a metal that has luster to it [such as brass]," Ms. Storms said.
A color can also be used to anchor the whole space, especially when there are a seemingly wild variety of other colors and patterns together.
"Mixing patterns and prints within a single room can provide an incredibly energetic space, but it also needs to be grounded," Ms. Storms said. "Adding an anchoring color, such as black, in the textiles or metal can ground a space and keep it from [being] overwhelming."
And never forget the classic wedding adage: "Make sure something is old," Ms. Simonds said. "Everything cannot be new. If it's all new, it will feel straight out of a catalog."
Last, even if a room leans industrial or rustic or vintage, keep it luxurious by remembering to layer in some finer materials such as marble, natural fibers and polished metal.
"A beautiful, supple wool curtain over a concrete wall or a stunning, custom, leather ottoman in front of a steel-faced fireplace – those are successful mixes of rough with elegant that give you that luxe finished product," Ms. Kopp said.
Mastering the mix, in general, lends a more high-end feel to any space.
"Mixing materials, when done well, brings a more luxe, curated sensibility to the home," Ms. Storms said.