By LISA KLEIN
It is no secret that Hawaii boasts stunning landscapes and beautiful year-round weather, placing it firmly on top of homebuyers' wish lists.
There is a surge of interest in the real estate market on the Pacific chain of U.S. islands. In a recent Luxury Portfolio International poll, one in five international luxury buyers said they were looking at buying a primary or secondary home in Hawaii.
"This is such an exciting time for the luxury market," said Corinda Wong, real estate agent and partner with the Hawaiian brokerage firm Locations. "Things are really happening."
Sales figures released by the Hawaii Association of Realtors back up the hype – single family home sales throughout the state were up 92.33 percent in May 2021 over May 2020, with the median sale price rising 39.3 percent to $865,250.
Indeed, Hawaii has become the perfect place to purchase, with international buyers saying they want a better quality of life along with investment potential.
Aloha to easy living
Ms. Wong and two other Locations real estate agents and partners, Shannon K. Smith and Dolores Bediones, all agree that work-from-home-and-from-anywhere capabilities driven by the pandemic have raised interest in their islands.
"I already have clients looking for something where they can be here full time," Ms. Smith said, so they can "take advantage of the culture and lifestyle of Hawaii."
The friendly locals are a major draw for those thinking about relocating from elsewhere.
"You feel like you've been here forever," Ms. Smith said. "It's a very welcoming culture."
Add the year-round tropical weather and you have a recipe for "family focused activities that just feel really good," Ms. Wong said.
Full-time residents can live like they are on a permanent vacation, enjoying hiking, surfing or just hanging out at the beach.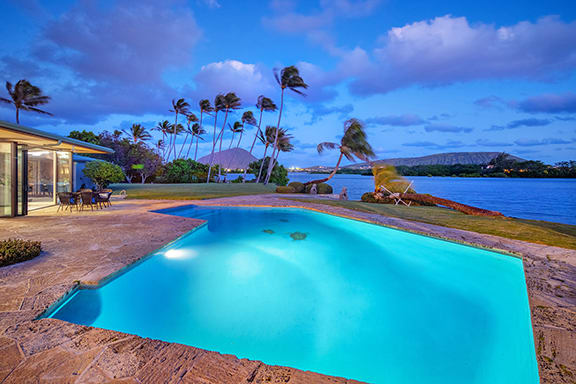 "The weather and the lifestyle – you really can't beat it," Ms. Smith said.
The world-class international food in restaurants with killer views as another perk of island living.
Much to sea
The main island of O'ahu, home to the state capital Honolulu and the famous Waikiki beach, is the best place to look for those consumers who plan to be in Hawaii for an extended amount of time. This island is the location of Hawaii's top restaurants, nightlife and important amenities such as schools and hospitals.
Luckily, O'ahu can offer just about every type of property a luxury buyer might want, from beachfront houses to high-rise condos.
"The popular luxury neighborhoods are Kahala, Waialae Iki, Hawaii Loa, Kailua and Kakaako for luxury condos," Ms. Bediones said. "Buyers appreciate the location and close proximity to world-class shopping and exciting restaurants."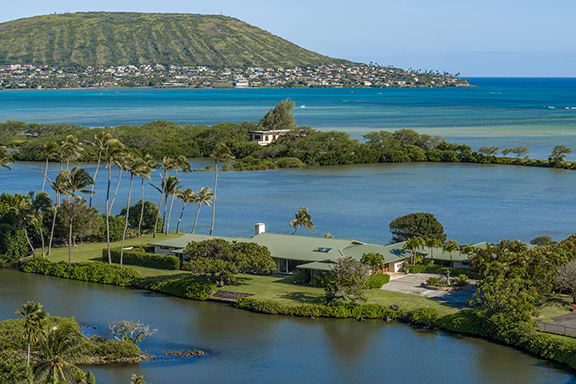 Although there are plenty of options in the heart of the city, most luxury buyers prefer to be beachside or in the mountains.
"Everybody wants to have a place right on the beach," Ms. Smith said.
But even city condos have "this fantastic view of the ocean," she said.
For much more private living, the west and north sides of O'ahu are where it is at.
Buyers will find larger plots of land and an even closer proximity to nature. The outer islands, although far from most amenities, offer even more privacy.
Going all out
"Hawaii is all about the views," Ms. Bediones said. "Buyers are attracted to ocean, Diamond Head and mountain views. More affluent buyers prefer oceanfront and beachfront properties."
Ms. Bediones said new construction is rare on the islands, but features a modern, sleek look. Many older luxury homes are being renovated with a modern or mid-century feel.
According to Ms. Wong and Ms. Smith, homes in Hawaii are built to let those outside views inside.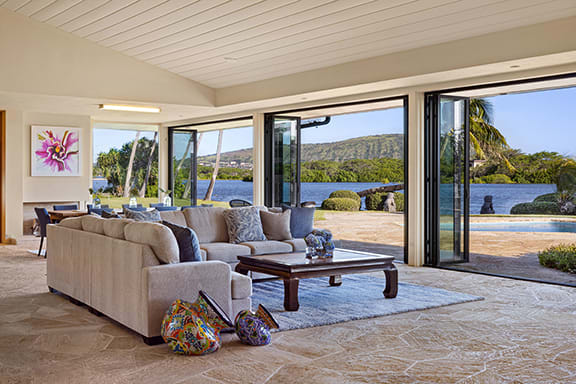 Thanks to the weather, "you can have a home where you can literally open up everything," Ms. Smith said.
"Everybody likes indoor-outdoor living," Ms. Wong said. "Just imagine living in a home where you have all this light and air."
Single-family homes are often built with the natural trade winds in mind, positioned to allow the ocean breezes to waft through the whole house. Floor-to-ceiling glass doors completely open up, removing an entire wall to the outdoors.
"It's just an interesting place," Ms. Wong said. "A lot of people want to come here. This tiny dot does a lot."