By LISA KLEIN
Andrea Monath Schumacher has been creating personality-filled spaces for over two decades.
Last week she released her first book, Vibrant Interiors: Living Large at Home, detailing six playful projects that embody the layered and bold yet balanced style of her design firm, Andrea Schumacher Interiors, based in Denver, Colorado, with a new outpost in Santa Barbara, California.
Below, she discusses her design philosophy and new adventure as a book author with Luxury Portfolio.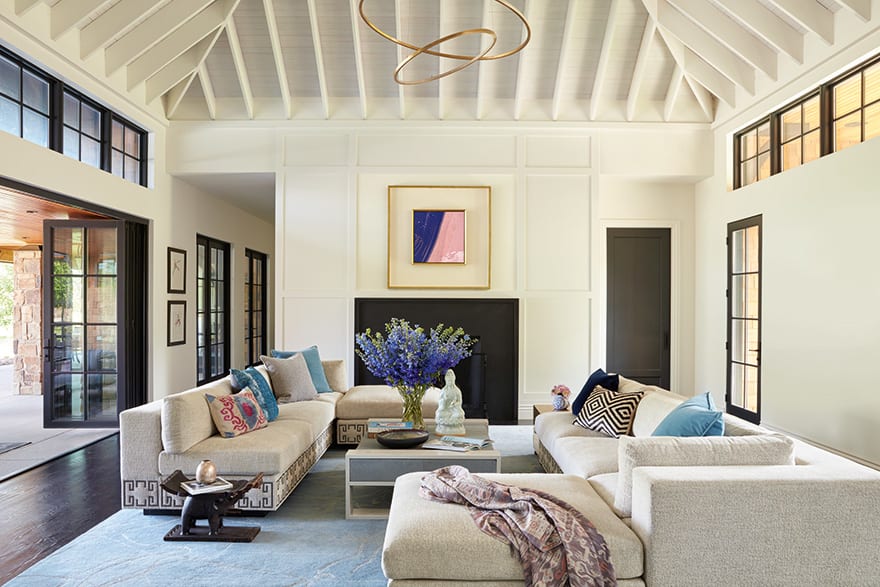 First of all, can you tell us a little bit about your background and how you got started as a designer?
I founded my design firm in 1999 almost by accident.
I had been working as an intern set designer for "Days of Our Lives" and Columbia Pictures and decided to continue my education. I was taking courses towards a masters [degree] in architecture at the University of Colorado when clients started approaching me to design their homes. From there, things took off, and now we are a firm of 11 and growing.
Vibrant Interiors is your first book – what made you decide to write it?
I feel honored to work in design and to be able to touch the lives of so many through creating beautiful, livable spaces.
Our environments hugely impact our emotions, and I want to create spaces that make my clients feel wonderful. This book includes tips, tricks and insight into how others can do the same for themselves. 
What can readers expect to find in the pages?
My grandmother was an artist who taught me the importance of living beautifully. I learned so much from her, and I always like to imbue artistry into the home, whether it be with antique Chinese doors or captivating snake candleholder sconces. Great design is all about the details.
So, what does make an interior vibrant?
Going back to my days as a set designer, we were always thinking about the stories we were conveying through the spaces we designed. I do this today with my clients. I think an interior is vibrant when it tells your story authentically and lets you live to the fullest.
How would you describe your design style?
My style is all about mixing colors, time periods and inspirations to create elegant, layered interiors.
Growing up, my dad was a virologist for the CDC, so we lived everywhere from Atlanta to Nigeria. Living in so many corners of the globe was essential to developing my design eye and is backed by my education. 
What are some of your favorite design elements to work with?
I really enjoy working with unusual, unique furniture pieces and art. I'm also no stranger to pattern and color. 
You do use a lot of color in your designs. What do bright, bold colors lend to a space?
I love color. It makes everything more exciting, but it is all about using color correctly and achieving a balance. Too much of a good thing is never good.
I typically begin by finding one element in the room that will serve as the foundation of the palette – for example, a piece of art or a fabric. From there, color can be splashed across the walls or used more restrainedly, like on a lampshade. 
What do you do to balance out louder elements such as color and pattern?
I think about how all elements interact with one another, including the room's flow and the architecture. The careful attention to scale allows for a nice foundation upon which to add color and pattern. It is methodical so as not to tip the scale too far.
I will also create visual pauses – for example, solid pillows or fabrics for color blocking. 
How do you inject some personality into each space?
I do this by creating interiors that reflect the lives of the homeowners. Where have they been? What do they collect?
Conversation pieces are also an important part of the storytelling process. They can be rare or simply out of place and unexpected. They allow for connection with others and with our homes. 
How does Vibrant Interiors reflect your work overall?
The book focuses on six projects. They all have their own unique spirit but reflect my love of the mix to create truly inspired spaces with a wink.