By LISA KLEIN
Professional chefs make cooking look easy but no matter how talented, their restaurants also have the right set-up to help them along.
When designing and stocking a kitchen, home chefs can use the same principles to make their meal preparation feel like they are firing up food at the finest French bistro.
"The most important design aspect in the kitchen is flow," said Antonia Lofaso, executive chef and owner of Scopa Italian Roots, Black Market Liquor Bar and DAMA in California and seen on Bravo's Top Chef and the Food Network's Guy's Grocery Games.
Lay it out
Restaurants use what is known as the "kitchen work triangle" to maximize cooking space and flow. The same design can work wonders for the home kitchen.
The three most important items in the kitchen – stove, refrigerator and sink – should always form a triangle.
Indeed, the shape of the room does not matter as long as the big three are placed in the correct shape. This allows any chef from professional to amateur to move seamlessly from one to the other.
A large center island in the middle of this space adds counter space for a designated prep area.
"The large central counter will also help you designate different areas for kitchen helpers to prep and organize, so you're not running into each other trying to get to the sink, fridge, or oven," Ms. Lofaso said.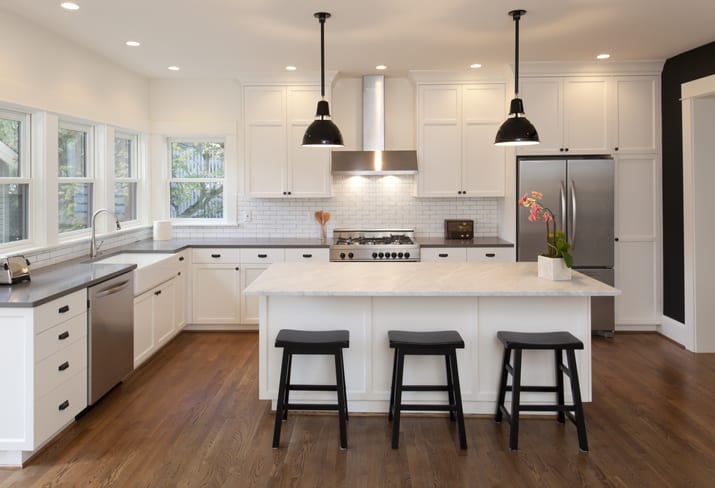 Having everything a chef needs to cook with close by is another trick of the trade.
"What I would think about, above all, is accessibility," said Emily Johnson, senior commerce editor for cooking Web site Epicurious.
"Everything being within arm's reach is super important, and using your walls is a good way to do that," Ms. Johnson said. "Julia Child's kitchen famously had peg board."
Cooking tools can be hung from hooks on the wall or peg board. A hanging pot rack or open shelving near the range will allow home chefs to grab exactly what they need, when they need it.
Ms. Johnson also keeps cooking oils and spices right where she will be using them to cook, something Ms. Lofaso recommends as well.
"Spices often get lost in cabinets, go bad, and lose their potency," Ms. Lofaso said. "It's very easy to not know what you have unless you have a visible well-organized system for your spices."
And while restaurant professionals may not always use recipes, most home chefs will need to reference them in the kitchen.
"I think there needs to be a visible, accessible area for your cookbooks," Ms. Lofaso said. "We often forget about them, but if we have them displayed front-and-center, we can easily pull from them and utilize them daily."
Basic is best
The simplest kitchen tools are all a professional chef really needs, although gadgets and gizmos can certainly add to the home cook's arsenal.
"I am a minimalist when it comes to kitchen tools," Ms. Lofaso said.
"When I was in culinary school, one of my teachers taught us that we didn't even need fancy tools like a rolling pin – that we could just use something as simple as a bottle of wine or water that was already in our kitchen."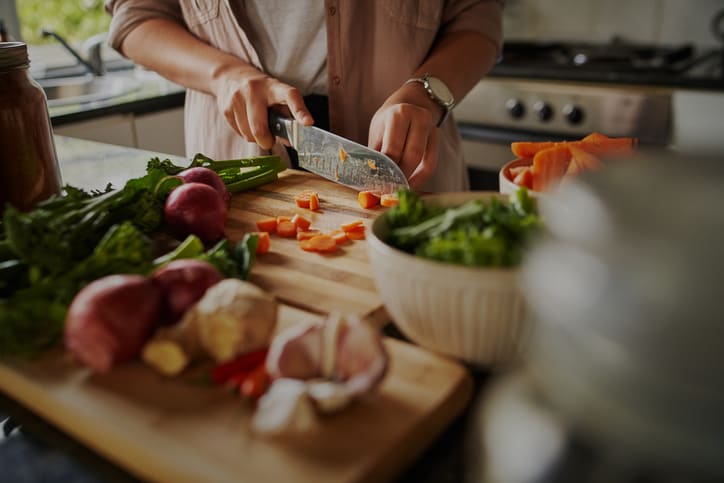 There are some things that both amateurs and professionals just cannot cook without though – knives and pans, among them.
The pros all agree that knife sets are unnecessary – there are only three a cook needs: a chef's knife, a paring knife for more detailed cutting and a serrated knife for bread.
"I think the singular most important thing is a really good chef's knife," Ms. Johnson said.
"The most frustrating thing in a kitchen is to not have a sharp knife," she said. "It makes all of the chopping and prep work you need to do that much easier."
The same advice goes for those necessary pots and pans: just a few perfect ones will do the trick.
"People get tricked into buying pots and pans sets," Ms. Johnson said.
Ms. Johnson lists a versatile cast iron skillet, non-stick skillet and stainless-steel skillet as the only pans a home cook needs. Add a sauce pan and a big stock pot, and the list is complete.
Ms. Lofaso recommends a few multi-use essentials, including what she calls an extension of the hands: tongs. A large, hefty spoon should also always be at the ready.
"When I was a young cook, I used to carry around a giant spoon in my back pocket – don't worry, it was sanitized a lot – so I could stir, taste and plate dishes at a moment's notice," Ms. Lofaso said.
Also, do not underestimate the humble cheese grater.
"It can be multi-purposed and utilized to grate eggs, garlic, nutmeg, citrus and more," Ms. Lofaso said. "It is the universal shredder of the kitchen"
Bottom line, no matter how basic or decked out the kitchen, in the end home chefs need remember one thing.
"You can make great food with anything," Ms. Johnson said.