bright home in great location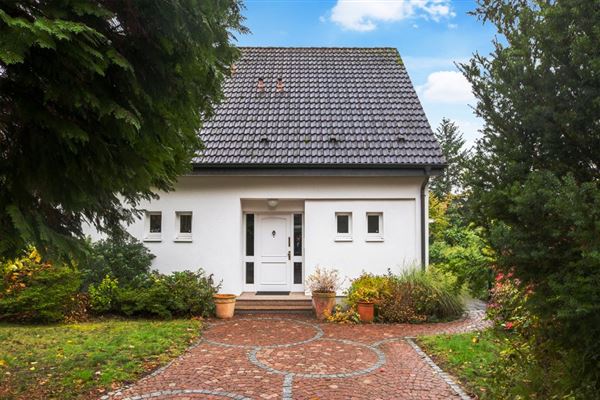 This property with perfect south exposure is located in one of the best locations in Hilden and convinces with spacious and bright rooms as well as with an imposing south property. Above all, the classic-looking floor plan of the massive structure, which clearly separates between the living area on the ground floor and the sleeping area in the attic, is perfect for a family.
The property was rebuilt in 1989 at great expense. In addition to the high ceilings on the ground floor and the normal ceiling height in the living room in the basement, the practical layout and openness of the rooms are striking. On the ground floor there is a generous entrance area, a fitted kitchen with access to the south-facing terrace, the living room with an open fireplace, also with access to the south-facing terrace and an office or bedroom. The living room and the kitchen each have floor-to-ceiling windows. A pantry with daylight and a guest toilet are also available here. The attic has three bedrooms, a spacious dressing room and two bathrooms (a bath and a shower). Two of the bedrooms and the dressing room have direct access to the very lush roof terrace, which invites you to sunbathe by a pure south facing. The pointed bottom is used as a storage area.
The basement was also - partly for residential purposes - rebuilt. Here you will find next to the basement rooms an additional bedroom and a shower room with toilet: ideal for guests or as an additional hobby area. Also to be highlighted is the cellar entrance connected to the garden, which can be reached via a glass roof in the dry.
The grounds with the old trees are a highlight for the environment. The length and size of the garden area are impressive and offer plenty of space for a family who appreciates this exclusive space. Due to a densely grown border planting, the property has a natural screen on the flanks. An ideal home for a family with a high standard of living and a sunny plot with south exposure.

Built in: 1989

Approximate Square Feet: 230 ft
Web id: FBGF
MLS#: 757803
Approx. Sq. Ft.: 230
Bedrooms: 4
Bathrooms: 3