The Enchanted Hill above beverly hills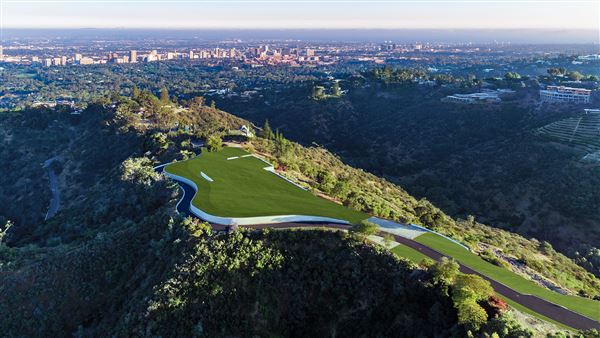 ---
---
Beverly Hills, CA, USA
US $95,000,000
---
---
Presenting a once-in-a-generation opportunity to own one of the most unrivaled properties ever available located just above the heart of Beverly Hills.
The Enchanted Hill offers 120 acres just a few minutes from The Beverly Hills Hotel and Rodeo Drive. Enter through the main security gates, gradually ascending a mile long drive past four flat lots situated privately at various sites along the way and finally arriving at the four acre main estate site. Each lot is uniquely positioned to take advantage of city, ocean, sweeping mountain or canyon views in the most private and tranquil setting imaginable.
With access points at each end of the property, The Enchanted Hill affords limitless possibilities to create a unique compound. Build the Main Residence at the top of the hill and utilize the four additional estate sites for multiple Guest Houses, a state-of-the-art Fitness and Wellness Center and Spa, an Entertainment Complex, a Sports Arena, world-class Equestrian facilities, The Enchanted Hill Vineyard & Winery, and private hiking trails all spread over this unprecedented setting.
An enchanted and magical land with a storied and legendary past, The Enchanted Hill was originally created by one of Hollywood's most powerful and admired couples and has since transferred hands only three times over the years to some of the world's most highly regarded and innovative thinkers. This private hilltop compound provides a world of possibilities that can never again be duplicated. A perfect combination of prime location, ultimate privacy, massive acreage and flat pads, The Enchanted Hill presents an unparalleled real estate offering.
Web id: PGWR
MLS#: 18383184