Beautiful farmhouse in Val d'Orcia - Tuscany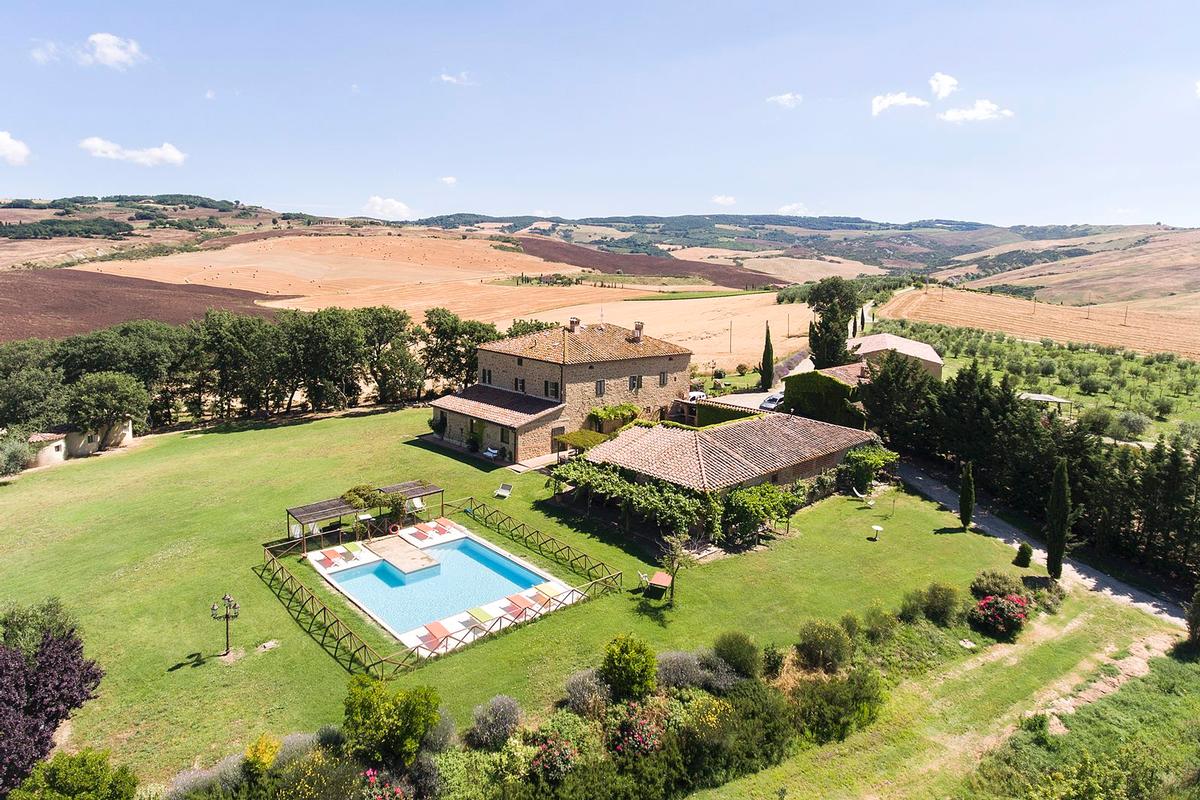 Luxury villa, for a total of 1200 sqm, converted into a 17th-century farm. Beautifully renovated and charming is located in the town of Pienza, with a splendid view of the Val d'Orcia natural and cultural park.
Location and Lifestyle
Pienza is one of the most renowned medieval villages of the Val d'Orcia, its artistic historical importance is relevant throughout the history of Italian art. This is why in 1196 together with the Val d'Orcia park it was declared a World Heritage Site by the Unesco. immersed in the green of the Sienese countryside, it offers an ideal climate and unparalleled fish.
From the Pienza property is about 10Km. All services are less than ten minutes by car and places of interest such as Montepulciano, Bagno Vignoni, San Quirico d'Orcia and Montalcino are less than 20Km away. Siena, seat of the offices of the Province and of the Court, is about 55Km. Chiusi Scalo station is 25Km, the airports of Florence and Rome are respectively 120Km and 200Km.
Description
The villa, which has been tastefully restored in typical Tuscan style, is composed of three separate structures: the main house, the annex and the large annex where there is a small apartment. the spa area and two double bedrooms. The main house is spread over three floors and is characterized by the ground floor with the entire area leaving, while the upper floors are the bedrooms and two other relaxation areas in addition to the play area in the beautiful attic. All rooms have a private bathroom, except for two located in the attic, which share a common service.
The dependance consists of a small country house, also completely renovated, where in addition to the leaving area and services there are two double bedrooms. The outdoor garden which has a beautiful view has a jacuzzi overlooking the valley.
The property includes the agricultural outbuildings dedicated to the cultivation of the land with oil production.
Outdoor spaces
The property is surrounded by approximately three ha of land cultivated with olive trees and arable land, also the garden is structured with gazebo and pergolas for the summer that serve the pool area.
Potential use
Private and quiet, nestled in the hills, the property is ideal for those who want a quiet and charming place to spend summer periods away from the city or for those who want to undertake a B and B activity.

Property Features Include: 3, security system, swimming pool, spacious parking, autonomous heating, In the garden there is a jacuzzi and a swimming pool with a panoramic view, Two relaxation areas, a spa area

Interior Features Include: The villa, which has been tastefully restored in typical Tuscan style

Views Include: Hills

Amenities Include: on golf course, jacuzzi, relaxing area, spa area

Stories: 3

Approximate Square Meters : 1200 m

Buildings: 3

Roof: cotto tile roof.

Lot Acres: 3

Lot Dimensions: 1200 sq.m.
Web id: QUHU
MLS#: 2844-1
APPROX. SQ. M: 1200
Bedrooms: 12
Bathrooms: 10