Flapjack Farm on 15 Pastoral Acres in Boulder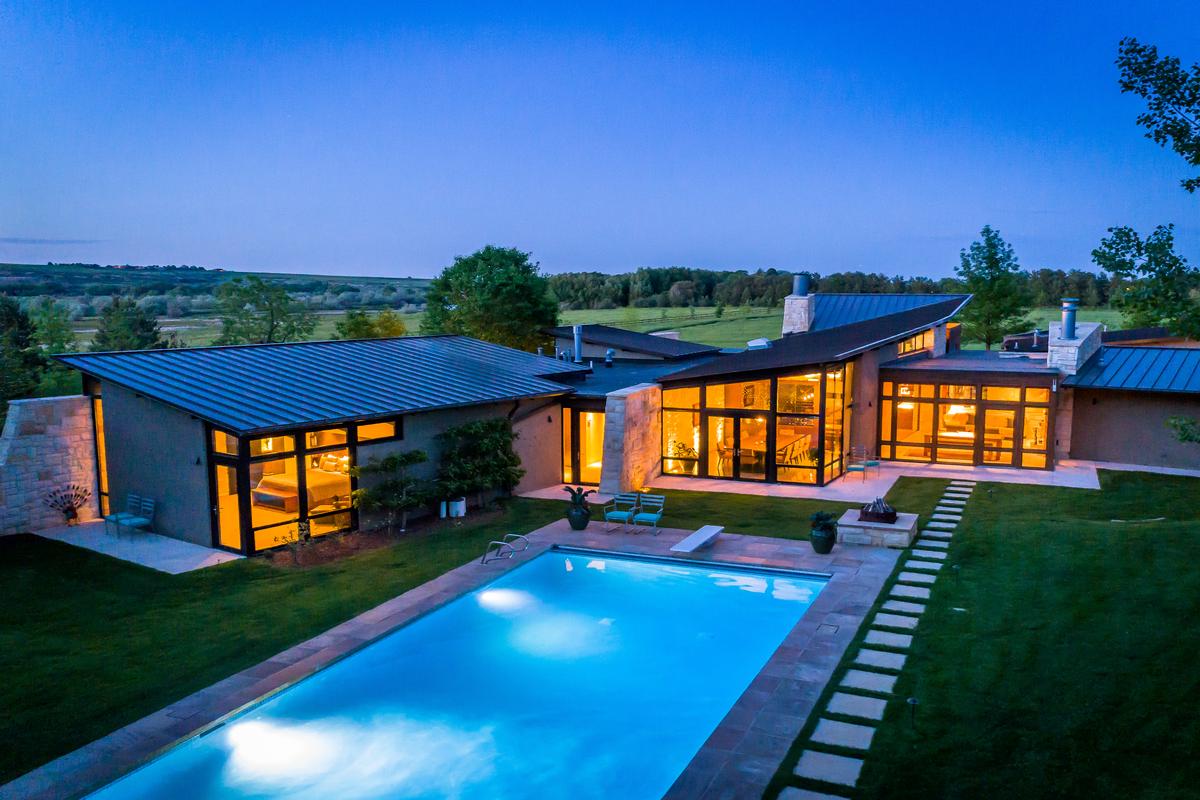 ---
---
Boulder, CO, USA
US $10,000,000
---
---
Presenting a Premier Boulder Residence - Flapjack Farm
This home's unique layout is thoughtfully placed within a grove of mature cottonwood, oak and spruce trees with a floor plan that is organized in three distinct wings to optimize views and access to the remarkable natural landscape. Rather than stacking traditional household floors vertically (basement, main, second story), this home is built laterally without a single step. The property exudes mid-century elegance; with steel beams, wood plank ceiling, concrete floor, limestone walls, and walnut cabinetry.
The entryway and main hallway act as a conduit into wings two and three, providing broad views to the West as a sliding glass door disappears into the stone wall to open the entry to the spacious screened porch and then outside to the luxurious pool and spa. To the East, a wall of glass in this entryway frames the seamless views of the farm's pastoral beauty. Stepping into the central section of the home, there is an open, unobtrusive layout which allows the kitchen to function as the heart of the home; for the dining room and screened porch to act as forays into the lush backyard pool area; and for the soaring living room to gaze out over the open range vistas and on to the stone cliffs at the base of the Boulder Creek in the distance.
Draw open one of the weighty steel barn-style doors to reveal the home's most intimate wing beginning with a den complete with built-in walnut bookcases/desks and TV seating area. Down the long limestone-walled hallway are three bedrooms concluding with a secluded master suite. The tranquility of the master suite is enhanced by views over the pool and spa area.
The final wing is the most public element at the front of the home. Windows from the family/game room look onto the front gardens and magnificent cottonwood tree at the entry. The exposed limestone walls, inside and out, convey the strength of the construction and harken to their use on early American farms. This third section of the home includes a guest casita with separate entrance off the screened-in porch that also overlooks the pool and spa courtyard.
Ideal for Entertaining
Perfectly suited for indoor/outdoor living with spaces designed for the enjoyment of a quiet evening by the warmth of the stone fireplace, an afternoon filled with good friends lounging by the resort like pool followed by a game of touch football in the field, or a formal event (large or small) hosted in the central living area.
Exceptional Design
The simple, timeless materials reflect the rural qualities of the surroundings and create a sense of calm and permanence. Created by Semple Brown Design, one of the region's most distinguished architectural firms, and built with integrity by master local craftsmen, this generational residence is truly one of a kind and considered one of the finest homes on Colorado's Front Range.
Approximate Square Feet: 6122 ft
Architectural Style: Contemporary
Lot Acres: 15.3
Lot Dimensions: 671,591
Web id: EUVC
MLS#: WKRE7983
Approx. Sq. Ft.: 6122
Bedrooms: 4
Bathrooms: 6